Antonino Maria Marra, Ph.D.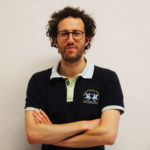 Scientific Laboratory Technician
Office:Via di Santa Marta, 3 – 50139 Florence (Italy)
BLWT: piazza Ciardi, 25 – 59100 Prato (Italy)
Phone Office: +39 055 2758858
Phone BLWT: +39 0574 602558
m@ail: antoninomaria.marra@unifi.it
Curriculum Vitae
2008: Ma.Sc. in Civil Engineering – ("Mediterranea" University of Reggio Calabria).
2008 – 2011: PhD fellowship in Structural Engineering (University of Florence, in consortium with TU Braunschweig).
2011: PhD in Structural Engineering, discussing a thesis on "Risk assessment of bridge decks prone to vortex-induced vibrations ". Italian (Dottore di Ricerca) and German (Doktor Ingenieur) Ph.D. titles.
2011-2016: Post Doctoral Research Fellow at the Department of Civil and Environmental Engineering of the University of Florence.
since February 2017: Scientific Laboratory Technician at the Department of Civil and Environmental Engineering.
Fields of Interest
Wind Engineering: modelling and experimental studies on bluff-bodies subjected to aeroelastic phenomena (vortex-induced vibrations, flutter, galloping).
Seismic Engineering: seismic risk on historic masonry towers.
Experiences in Laboratories abroad
May 2010 – May 2015 – WIND TUNNEL – Research periods (a total of 9 months – 3 x 3 months) at the Institute for Steel Structures (Stahlbau – TU Braunschweig, Braunschweig – Germany) on the topic of my PhD project, under the supervision of Prof.-Ing. Udo Peil, Klaus Thile and Dr.-Ing. Mathias Clobes.
2008 – WIND TUNNEL – Visiting Researcher at Danmarks Tekniske Universitet (Copenaghen, Denmark): development of a climatic wind tunnel to investigate the aeroelastic behaviour of cables in suspended and cable-stayed bridges when subjected to ice-wind and rain-wind interactions.